Messing Vera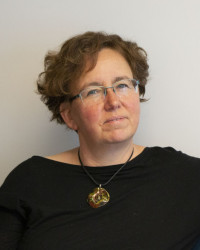 CV letöltése
Intézetigazgató
Kutatóprofesszor (TK SZI)
Osztály: Társadalom- és Közpolitika Kutatási Osztály
Tudományos cím vagy fokozat: PhD
E-mail: messing.vera@tk.hu
Telefonszám: +36 1 2246700, 2240778 / 5438
Épület: B (Emelet, szobaszám: 1.25.)
Kutatási területek
társadalmi egyenlőtlenségek, kirekesztés és befogadás,
etnikai kisebbségek, bevándorlók,
közpolitikai kutatások (oktatás, munkaerőpiac),
romák média reprezentációja
Kiemelt publikációk
Árendás, Z., Messing, V., & Zentai, V. (2018) With Eyes Wide Shut. Job Searching Qualified Roma and Employee Seeking Companies. Intersections EEJSP 4(1) 66-88
Tremlett, A. Messing, V. and Kóczé A. (2017) Romaphobia and the media: mechanisms of power and the politics of representations. Introduction to the Special Issue 'Romaphobia and the media'. Identities 24(6), 641-649
Messing, V. And Bernáth G. (2017) Disempowered by the media: causes and consequences of the lack of media voice of Roma communities. Identities 24(6), 650-667.
Messing, V. (2017) Differentiation in the making: consequences of school integration of Roma in Journal of European Education. 49:1, 89-103, DOI: 10.1080/10564934.2017.1280336
Messing, V. and Bereményi, Á (2016) "Is ethnicity a meaningful category of employment policies for Roma? A comparative case study of Hungary and Spain". Ethnic and Racial Studies. 40:10; DOI:10.1080/01419870.2016.1213402
Messing, V. (2015) Policy puzzles with the employment of Roma. In Miroslav Beblavy et.al. (eds) Green, Pink or Silver: The Future of Labor in Europe. Brussels: Center for European Policy Studies (CEPS), 2015. pp. 174-196
Annabel Tremlett, Vera Messing. 2015. Hungary's future: anti-immigration, anti-multiculturalism and anti-Roma? OPEN DEMOCRACY 2015:(aug. 4)
Messing, Vera (2014) Apart or together: motivations behind ethnic segregation in education across Europe. In Schiff, Claire and Júlia Szalai (eds) Migrant, Roma and Post-colonial Youth in Education across Europe: Being 'visibly different'. London: Palgrave, 17–34. (ISBN:978-1-137-30862-7)
Messing, Vera (2014) Methodological puzzles of surveying Roma/Gypsy populations. Ethnicities (ISSN: 1468-7968), 14: (6), 811–829.
Messing, Vera 2008. Good practices addressing school integration of Roma/Gypsy children in Hungary. INTERCULTURAL EDUCATION (ISSN: 1467-5986) 19: (5) pp. 461-473. (2008)
Messing, Vera. 2008. "In white frame" The representation of Roma in the Hungarian press. Frankfurt: VDM Verlag Dr. Müller, 2008. 167 p. ISBN: 978-3-639-03784-5
Projektek
2011
European Social Survey (ESS); principal researcher of the Hungarian team. (funding: Hungarian Academy of Sciences)
2018
Transnational children and their families, with special focus on the education of transnational children
2016
Bridge to Business: Bridging Young Roma and the Business: Intervention for Inclusion of Roma Youth through Employment in the Private Sector in Bulgaria and HUngary ; principal researcher for the impact assessment research (funding: European Comission DG Employment)
2015–16
Media representation of the refugee crisis. A comparative analysis of the Austrian and Hungarian media. Principal researcher (funding: Central European University
2014–16
Media representation of Roma 1988-2015. Discursive strategies and regimes of representation. Prinicpal researcher; (Funding: Hungarian Research Fund)
2014–2016
ASSESS - monitoring integration of vulnerable migrants. (Lead of Hungarian research team. (Funding European Commission)
2012–14
NEUJOBS: 'Employment 2025: How will multiple transitions affect the European labour market'. Leader of work-package 'Policy puzzles with Roma employment' (a policy focused empirical research run in 5 countries) (Funding: EU FP7 framework).
2012–14
Multiple discrimination in Hungary. (Funding: Hungarian National Scientific Research Fund)
2010–11
Representation of Roma/Gypsy minority in the Hungarian media.
2008–2011
Ethnic Differences in Education and Diverging Prospects for Urban Youth in an Enlarged Europe (EDUMIGROM). Team member of the Coordinating team (CPS) and member of the Hungarian research team (MTA SZKI) in (Funding: EU FP7 framework. (www.edumigrom.eu)
2007–2009
Subsistence strategies of poor families along regional and ethnic differences. Lead researcher (Funding: Hungarian National Scientific Research Fund)
2008–2009
Immigrants and ethnic minorities between labour and welfare. A state-of-the-art research in Hungary and Central Europe. (Funding: RECWOWE – Network of Excellence, EU-FP6)
2008
Pilot media research – coverage of ethnic minorities in the print media. Funded by the Fundamental Rights Agency. Lead researcher Dr. Endre Sik. Participating and consulting in the course of the design of the research.