Beáta Dávid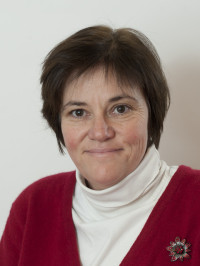 Download CV
Research Professor (TK SZI)
Department: Research Department for Families and Social Relations
Academic Title: PhD
Email: david.beata@tk.hu
Phone: +36 1 2240777 / 5434
Building: B (Floor, room: 1.11.)
Research Interests
social network analysis, sociology of family, sociology of health
Selected Publications
Albert F, Dávid B, Kmetty Z, Kristóf L, Róbert P, Szabó A 2018: Mapping the Post-communist Class Structure: Findings from the 'Hungarian Class Survey! in: EAST EUROPEAN POLITICS AND SOCIETIES OnlineFirst: Paper 0888325417739954. (2018)
Ágnes Lukács J, Beáta Dávid 2018: Roma Undergraduates' Personal Network in the Process of College Transition. A Social Capital Approach. in RESEARCH IN HIGHER EDUCATION 57:(1) pp. 1-19. (2018)
Dávid Beata, Huszti Eva, Barna Ildikó, Fu Yang-chih: Egocentric contact networks in comparison: Taiwan and Hungary SOCIAL NETWORKS 44: pp. 253-265. (2016)
Dávid B: Social Network Analysis: Applied Tool to Enhance Effective Collaboration between Child Protection Organisations by Revealing and Strengthening Work Relationships EUROPEAN JOURNAL OF MENTAL HEALTH 8:(1) pp. 3-28. (2013)
Huszti É, Dávid B, Vajda K: Strong tie, weak tie and in-betweens: a continuous measure of tie strength based on contact diary datasets. PROCEDIA - SOCIAL AND BEHAVIORAL SCIENCES 79:(6) pp. 38-61. (2013)
Beata David – Tom A. B. Snijders 2002: Estimating the Size of the Homeless Population in Budapest, Hungary. In: Quality and Quantity International Journal of Methodology 36: 291-303. Albert Fruzsina- Dávid Beáta 1999: About friends. In: Social Report 1998, Eds: Kolosi et al. TÁRKI, Bp. pp:270-293.
Dávid Beáta, Barna Ildikó, Bóné Veronika, Hegedűs Réka, Izsák Éva: A rendszerváltás családtörténetei – Huszonöt év Budapest árnyékában (Family stories of the Transition. 25 years in the shadow of Budapest) Budapest: L'Harmattan Kiadó, 2016. 168 p. (ISBN:978-963-414-116-7)
Albert Fruzsina- Dávid Beáta 2007: Embert barátjáról…A barátság szociológiája. (Birds of a feather…A sociology of friendship) Századvég kiadó, Budapest.
Research Projects
2011- principal researcher – Hungarian Christian Roma colleges – follow up panel study among students and alumni. Funded by EMMI (Ministry of Human Capacities)​
2017-2021 EFOP-3.4.3-16-2016-00007 - Semmelweis University Egyetem tanulói bázisának szélesítése, bekerülést és bennmaradást támogató programok indításán, valamint balassagyarmati telephelyén új szolgáltatások bevezetésén keresztül. 4 éves program
2016-2018 OTKA 119565 ISSP - Kapcsolatok és erőforrások (2017) és Vallás (2018) résztvevő kutató
2015- 2016 TÁMOP 4.2.1/D-15/1/KONV sz. - Közösségi és családi mediációs képzés és kutatás
2013 – 2016 OTKA researcher - Integrative and Desintegrative Processes in the Hungarian Society (K 108836)
2011- principal researcher – Hungarian Christian Roma colleges – follow up panel study, EMMI Szociális ügyekért és társadalmi felzárkózásért felelős államtitkárság
2011-2013 OTKA principal investigator – The Born and Unborn Children of the 1989 Transition: the Effects of the Socio-cultural Circumstances of Giving Birth on Demographic Processes (K 83336)