Fruzsina Albert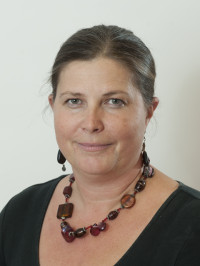 Download CV
Head of Research Department
Research Professor (TK SZI)
Department: Research Department for Families and Social Relations
Academic Title: PhD
Email: albert.fruzsina@tk.hu
Phone: +36 1 2246700, 2240777 / 5434
Building: B (Floor, room: 1.30)
Research Interests
social network analysis, family and friendship ties, social exclusion, gender, ageing
Selected Publications
Albert F, Koltai J, Dávid B (2021) The increasing importance of friends: Changes in core discussion network composition in post-communist Hungary between 1997 – 2015. Volume 66, pp. 139-145. https://doi.org/10.1016/j.socnet.2021.02.005
Albert F, Dávid B, Hajdu G, Huszti É (2020) Egocentric Contact Networks of Older Adults: Featuring Quantity, Strength and Function of Ties. The Sociological Quarterly DOI: 10.1080/00380253.2020.1787111
Albert F, Hajdu G (2020) Association between poverty indicators and social relations. Journal of Poverty and Social Justice, vol xx, no xx, 1–23, DOI: 10.1332/175982720X15966472176159. IF 0,952, Q1
Albert F, Dávid B (2018) Interpersonal relationships in Hungary – an overview. Metszetek, 7(2):72-93. DOI 10.18392/metsz/2018/2/6
Kmetty Z, Tardos R, Albert F, Dávid B (2018) Mapping social milieus and cohesion patterns between 1997 and 2014.: Exploiting the potential of the occupational position generator SOCIAL NETWORKS 55:(10) pp. 116-129.
Albert F, Dávid B, Kmetty Z, Kristóf L, Róbert P, Szabó A (2018) Mapping the Post-communist Class Structure: Findings from a New Multidimensional Hungarian Class Survey EAST EUROPEAN POLITICS AND SOCIETIES pp. 1-22.
Albert F, Dávid B (2016) Interpersonal Relationships in Hungary. In: Zhaoke Bin (Ed.) : Beyond the Transition: Social Change in China and Central-Eastern Europe. Social Science Academic Press. 139-160. (in Chinese)
Albert F (2015) Summary of the results . In: Albert F. (ed.) Életkeretek a börtönön innen és túl: Szubjektív reszocializációs esélyek (Life chances in and out of prison: subjective chances of reinsertion) Budapest: MTA Társadalomtudományi Kutatóközpont Szociológiai Intézet, 2015. 178 p. Szociológiai Tanulmányok; 2015/2.) (ISBN: 978-963-8302-47-2) 113-142.
Albert F, Tóth O (2013) Youth Drug and Crime Prevention Practices in Hungary as Reflected in the Opinions of Students and Professionals VARSTVOSLOVJE (ISSN: 1580-0253) 4: pp. 460-479.
Albert F, Dávid B. (2007) Embert barátjáról. A barátság szociológiája. (Birds of a feather. The sociology of friendship) Századvég. Budapest, p. 272
Albert F, Dávid B. (2001) Ha elszakad a háló. A magyarországi hajléktalanság kapcsolathálózati megközelítésben. (If the net breaks. Homelessness in Hungary from a network perspective). Új Mandátum kiadó, Budapest, p. 158
Research Projects
2018-2019 INVOTUNES: National Trade Union Involvement in the European Semester
2017 MTA TK internal grant: A qualitative study of friendship, principal investigator
2013-2017 OTKA (short for Hungarian National Scientific Research Fund) Integration and desintegration processes in Hungarian society, researcher
2013-2014 Hungarian adaptation of the BBC class survey, researcher
2012 – 2015 OTKA Life in and out of prison. Subjective chances of resocialization, project leader
1992: Social network characteristics of foreign students studying in Hungary. OTKA (project leader)
2011-2012: Youth deviance and youth violence: A European multi-agency perspective on best practices in prevention and control. EU Daphne III Programme (researcher)
2010-2011 Social Impact of Emigration and Rural-Urban Migration in Central and Eastern Europe. European Commission. (researcher)
2011-1013 The born and unborn children of the transition: the effects of socio-cultural conditions on demographic processes OTKA (researcher)
2009-2010 Research on labour market reintegration chances of Roma women. In cooperation with the Minority Research Centre of HAS, contracted by the Ministry of Social Affairs and Labour (researcher)
2008-2010 The chances of social integration of young adults with disabilities in Hungary, INNOTÁRS08 (researcher)
2007-2009 CONNECTIONS, EU PROGRESS external expert for the Social Resource Centre, Budapest project to evaluate the peer review method regarding social inclusion projects; 2005-2007 GENDERWISE (EU): The role of men as agents of change in reconciling work and family life (researcher)
2003-2005 "The migration potential of the Roma and the significance of social networks in Roma migration" F 042859 SZO OTKA grant (researcher)
2001-2004 "The social embeddedness of 15-20 year old young people and their parents, and its effect on mental-physical well-being" 1/017/2001 NKFP program (researcher)
2001-2003 "The social embeddedness of 15-20 year old young people and their parents, and its effect on mental-physical well-being" F 034608 OTKA grant (project leader)
2001-2002: "The social embeddedness of 15-20 year old young people and their parents, and its effect on mental-physical well-being, OKTK (project leader)
1999-2001 "Social network analysis of life-course interviews from 1956" F 030686 OTKA grant (researcher)
1996-1999: Homelessness from a social network perspective. OTKA grant. (researcher)