Veronika Paksi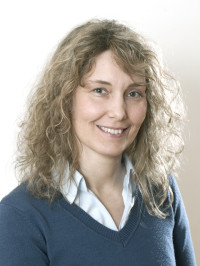 Download CV
Junior Research Fellow (TK SZI)
Department: Research Department for Methodology and History of Social Research
Email: paksi.veronika@tk.hu
Phone: +36 1 2246700 / 5432
Building: B (Floor, room: 1.30.)
Research Interests
Work-life balance, childbearing, women in science, technology, engineering and mathematics (STEM)
Selected Publications
Paksi V, Groó D (2019) Women in science – in Europe and Hungary. In: Fazekas, K; Szabó-Morvai, Á (eds.) Labor Market Yearbook, 2017. Budapest, Hungary: Institute of Economics, Centre for Economic and regional Studies, Hungarian Academy of Sciences
Katalin Füleki, Dóra Groó, Ferenc Kleinheincz, Veronika Paksi (2018) Country Note Hungary. EFFORTI Project, Horizon 2020 – Science with and for Society (SWAFS). pp. 99
Paksi V, Nagy B, Király G (2018) A gyermekvállalás időzítése a mérnöki PhD-tanulmányokat folytató nők körében. In Nagy B. – Géring Zs. – Király G. (szerk.) Dilemmák és stratégiák a család és munka összehangolásában. L'Harmattan Kiadó, Budapest, 431–457.
Tardos, Katalin and Paksi, Veronika (2018). Diversity Management and Gender Equality Outcomes in Research, Development & Innovation Organisations: Lessons for Practitioners. SZOCIOLÓGIAI SZEMLE. 28.4. pp. 166-190. http://www.szociologia.hu/dynamic/szociologia_2018_04_s166_s190_oldal_jav03.pdf
Paksi, Veronika and Tardos, Katalin (2018) Networks in science: Women's research collaborations and the old boys' club. Kultúra és Közösség, 49(4):39-48. http://epa.oszk.hu/02900/02936/00039/pdf/EPA02936_kultura_es_kozosseg_2018_04_039-048.pdf
Paksi, Veronika, Nagy, Beáta and Király, Gábor (2016) The timing of motherhood while earning a PhD in engineering. International Journal of Doctoral Studies, 11, 285-304. http://www.informingscience.org/Publications/3544
Paksi V (2015) Work-life balance of female PhD students in engineering. In: Pusztai G, Engler Á and Markóczi RI (Eds) Development of Teacher Calling in Higher Education. (Felsőoktatás és Társadalom 5) Partium Press-Personal Problems Solution-Új Mandátum, Nagyvárad-Budapest, 179-194.
Nagy B, Paksi V (2014) A munka-magánélet összehangolásának kérdései a magasan képzett nők körében. In: Spéder Zs (szerk) A család vonzásában. Tanulmányok Pongrácz Tiborné tiszteletére. KSH NKI, Budapest, 159-175.
Paksi V, Géring Zs, Király G (2014) A globalizáció különböző arcai: dezorganizáció, hálózat és bizonytalanság. In: A. Gergely A (ed): Sorsfordulók. Üdvözlőkötet Róbert Péter 60. születésnapjára. Politikatudományi Tanulmányok 2014/2, MTA TK-MTA PTI, 260-279.
Paksi Veronika (2014) Miért kevés a női hallgató a természet és műszaki tudományi képzésekben? Nemzetközi kitekintés a "szivárgó vezeték"metaforára. Replika, 85(4)-86(1): 109-130.
Király Gábor, Paksi Veronika és Luksander Alexandra (2014) A gyermekvállalás időzítésével kapcsolatos lakossági attitűdök egyes bizonytalansági tényezők tükrében. Szociológiai Szemle, 24(3): 84-112.
Király Gábor, Luksander Alexandra és Paksi Veronika (2013) Fiatalok munkanélküliségi kockázata Magyarországon és európai összehasonlításban. Kultúra és Közösség, 44(3): 139-153.
Acsády J, Biegelbauer A, Somogyi B, Paksi V, Szalma I (2012) (De)valuing care: Traditional and alternative patterns in the social construction of care in Hungary after the transition. In: Krassimira Daskalova, Caroline Hornstein-Tomic, Karl (Eds): Gendering post-socialist transition. Studies of changing gender perspectives Kaser,Filip Radunovic. LIT Verlag / Berlin, Münster, 2011. Wien, 119-149.
Király G, Paksi V (2012) Bizonytalanság a munka és a magánélet egyes területein In: Messing Vera, Ságvári Bence (szerk) Közösségi Viszonyulásaink 2012/1. A családdal, az állammal és a gazdasággal kapcsolatos társadalmi attitűdök, értékek európai összehasonlításban. ESS tanulmányok. Budapest: MTA SZKI-MTA PTI, 54-75.
Paksi, Veronika and Szalma, Ivett (2009) Age norms of childbearing. Early, ideal and late childbearing in European countries. Review of Sociology, 2: 57-80.
Research Projects
Career Models and Career Advancement in Research and Development. Different Patterns and Inequalities in Labour Market Opportunities, Personal Network Building and Work-Life Balance
2016-2021 Hungarian Scientific Research Fund (OTKA)
Head of Research: György Fábri (Eötvös Loránd University). Heads of Consortium Partners: Katalin Tardos (Cenre for Social Sciences, Hungarian Academy of Sciences), Sándor Soós (Library and Information Centre of the Hungarian Academy of Sciences)
Dilemmas and strategies in reconciling family and work
2013-2017 Hungarian Scientific Research Fund (OTKA)
Head of Research: Beata Nagy (Corvinus University Budapest)
Infertility and the practice of assisted reproductive technologies (ART)
2013-2017 Hungarian Scientific Research Fund (OTKA)
Head of Research: Lilla Vicsek (Corvinus University Budapest)
Social perception of doctorate holders on education and science
2013-2014 Social Renewal Operative Programme (TÁMOP)
Head of Research: György Fábri (Eötvös Loránd University)
PhD and childbearing. Work-life balance of female PhD students in the field of engineering
2010- research for doctoral thesis
Supervisors: Beáta Nagy (Corvinus University Budapest) and Gábor Király (Budapest Business School, Corvinus University Budapest)
Traditional and alternative patterns in the social construction of care in Hungary after the transition
2009-2010 ERSTE Stiftung, Vienna
Head of Research: Judit Acsády (Institute of Sociology, Hungarian Academy of Sciences)
European Social Survey – Hungarian survey
2008 Hungarian Scientific Research Fund (OTKA), Hungarian Academy of Sciences
Head of Research: László Füstös (Institute of Sociology, Hungarian Academy of Sciences)
Labour market chances of doctorate holders
2002 Universitas Press Ltd
Head of Research: György Fábri