Veronika Paksi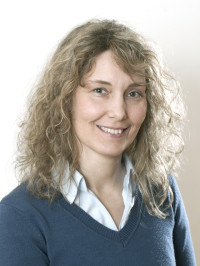 Download CV
Junior Research Fellow (TK SZI)
Department: Research Department for Social and Public Policy
Email: paksi.veronika@tk.hu
Phone: +36 1 2246700 / 5432
Building: B (Floor, room: 1.30.)
Research Interests
Work-life balance, childbearing, women in science, technology, engineering and mathematics (STEM)
Selected Publications
Paksi, V – Nagy, B. – Tardos, K. (2022) Perception of Barriers to Motherhood: Female Phd Students' Changing Family Plans in the STEM Fields. Social Inclusion (Q2, IF: 1,333)
Tardos, K–Paksi, V (2022) Can Equality Plans Contribute to the Sustainable Development Goal linked to Gender Equality in Higher Education and Research Performing Organisations? Education of Economists and Managers (in press)
Paksi, Veronika – Groó, Dóra (2019) Women in science – in Europe and Hungary. In: Fazekas, K; Szabó-Morvai, Á (eds.) Labor Market Yearbook, 2018. Budapest, Hungary: Institute of Economics, Centre for Economic and regional Studies, Hungarian Academy of Sciences
Füleki, Katalin – Groó, Dóra – Kleinheincz, Ferenc – Paksi, Veronika (2018) Country Note Hungary. EFFORTI Project, Horizon 2020 – Science with and for Society (SWAFS). pp. 99
Tardos, Katalin – Paksi, Veronika (2018). Diversity Management and Gender Equality Outcomes in Research, Development & Innovation Organisations: Lessons for Practitioners. Szociológiai Szemle, 28(4): 166-190. http://www.szociologia.hu/dynamic/szociologia_2018_04_s166_s190_oldal_jav03.pdf
Paksi, Veronika –Tardos, Katalin (2018) Networks in science: Women's research collaborations and the old boys' club. Kultúra és Közösség, 49(4):39-48. http://epa.oszk.hu/02900/02936/00039/pdf/EPA02936_kultura_es_kozosseg_2018_04_039-048.pdf
Paksi, Veronika, Nagy, Beáta and Király, Gábor (2016) The timing of motherhood while earning a PhD in engineering. International Journal of Doctoral Studies, 11, 285-304. http://www.informingscience.org/Publications/3544
Paksi V (2015) Work-life balance of female PhD students in engineering. In: Pusztai G, Engler Á and Markóczi RI (Eds) Development of Teacher Calling in Higher Education. (Felsőoktatás és Társadalom 5) Partium Press-Personal Problems Solution-Új Mandátum, Nagyvárad-Budapest, 179-194.
Nagy B, Paksi V (2014) A munka-magánélet összehangolásának kérdései a magasan képzett nők körében. In: Spéder Zs (szerk) A család vonzásában. Tanulmányok Pongrácz Tiborné tiszteletére. KSH NKI, Budapest, 159-175.
Paksi V, Géring Zs, Király G (2014) A globalizáció különböző arcai: dezorganizáció, hálózat és bizonytalanság. In: A. Gergely A (ed): Sorsfordulók. Üdvözlőkötet Róbert Péter 60. születésnapjára. Politikatudományi Tanulmányok 2014/2, MTA TK-MTA PTI, 260-279.
Paksi Veronika (2014) Miért kevés a női hallgató a természet és műszaki tudományi képzésekben? Nemzetközi kitekintés a "szivárgó vezeték"metaforára. Replika, 85(4)-86(1): 109-130.
Király Gábor, Paksi Veronika és Luksander Alexandra (2014) A gyermekvállalás időzítésével kapcsolatos lakossági attitűdök egyes bizonytalansági tényezők tükrében. Szociológiai Szemle, 24(3): 84-112.
Király Gábor, Luksander Alexandra és Paksi Veronika (2013) Fiatalok munkanélküliségi kockázata Magyarországon és európai összehasonlításban. Kultúra és Közösség, 44(3): 139-153.
Acsády J, Biegelbauer A, Somogyi B, Paksi V, Szalma I (2012) (De)valuing care: Traditional and alternative patterns in the social construction of care in Hungary after the transition. In: Krassimira Daskalova, Caroline Hornstein-Tomic, Karl (Eds): Gendering post-socialist transition. Studies of changing gender perspectives Kaser,Filip Radunovic. LIT Verlag / Berlin, Münster, 2011. Wien, 119-149.
Király G, Paksi V (2012) Bizonytalanság a munka és a magánélet egyes területein In: Messing Vera, Ságvári Bence (szerk) Közösségi Viszonyulásaink 2012/1. A családdal, az állammal és a gazdasággal kapcsolatos társadalmi attitűdök, értékek európai összehasonlításban. ESS tanulmányok. Budapest: MTA SZKI-MTA PTI, 54-75.
Paksi, Veronika and Szalma, Ivett (2009) Age norms of childbearing. Early, ideal and late childbearing in European countries. Review of Sociology, 2: 57-80.
Research Projects
Career Models and Career Advancement in Research and Development. Different Patterns and Inequalities in Labour Market Opportunities, Personal Network Building and Work-Life Balance
2016-2021 Hungarian Scientific Research Fund (OTKA)
Head of Research: György Fábri (Eötvös Loránd University). Heads of Consortium Partners: Katalin Tardos (Cenre for Social Sciences, Hungarian Academy of Sciences), Sándor Soós (Library and Information Centre of the Hungarian Academy of Sciences)
Evaluation Framework for Promoting Gender Equality in R&I (EFFORTI), Horizon 2020 – Science with and for Society (SWAFS), Head of Research: Groó, Dóra (Association of Hungarian Women in Sciences)
Dilemmas and strategies in reconciling family and work
2013-2017 Hungarian Scientific Research Fund (OTKA)
Head of Research: Beata Nagy (Corvinus University Budapest)
Infertility and the practice of assisted reproductive technologies (ART)
2013-2017 Hungarian Scientific Research Fund (OTKA)
Head of Research: Lilla Vicsek (Corvinus University Budapest)
Social perception of doctorate holders on education and science
2013-2014 Social Renewal Operative Programme (TÁMOP)
Head of Research: György Fábri (Eötvös Loránd University)
PhD and childbearing. Work-life balance of female PhD students in the field of engineering
2010- research for doctoral thesis
Supervisors: Beáta Nagy (Corvinus University Budapest) and Gábor Király (Budapest Business School, Corvinus University Budapest)
Traditional and alternative patterns in the social construction of care in Hungary after the transition
2009-2010 ERSTE Stiftung, Vienna
Head of Research: Judit Acsády (Institute of Sociology, Hungarian Academy of Sciences)
European Social Survey – Hungarian survey
2008 Hungarian Scientific Research Fund (OTKA), Hungarian Academy of Sciences
Head of Research: László Füstös (Institute of Sociology, Hungarian Academy of Sciences)
Labour market chances of doctorate holders
2002 Universitas Press Ltd
Head of Research: György Fábri