Boldizsár Megyesi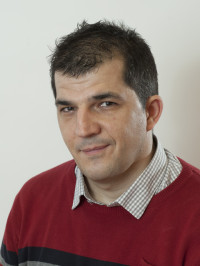 Download CV
Senior Research Fellow (TK SZI)
Department: Research Department for Social Integration and Inequalities
Academic Title: PhD
Email: megyesi.boldizsar@tk.hu
Phone: +36 1 2246700, 2240795 / 5400
Building: B (Floor, room: 1.22.)
Research Interests
Rural studies, Rural Sociology, social capital, Environment and Society
Selected Publications
Communities after markets. The long road of winemakers to self-governance in post-communist Hungary. In: Geoforum (88)1 pp. 129–137 https://doi.org/10.1016/j.geoforum.2017.11.021 (társzszerző: Mike Károly)
Food Self-provisioning in Europe:: An Exploration of Sociodemographic Factors in Five Regions RURAL SOCIOLOGY Paper 10.1111/ruso.12180. 31 p. http://dx.doi.org/10.1111/ruso.12180 (társzerzők: Jan Vávra, Barbora Duží, Tony Craig, Renata Klufová, Miloslav Lapka, Eva Cudlínova)
A társadalmi tőke és társadalmi integráció. In: Kovách Imre (szerk.) Társadalmi integráció: Az egyenlőtlenségek, az együttműködés, az újraelosztás és a hatalom szerkezete a magyar társadalomban. Szeged; Budapest: Belvedere Meridionale, 2017. pp. 155-182. (ISBN:978-963-418-010-4) (társszerző: Hajdu Gábor)
Organising collective reputation: An Ostromian perspective In: INTERNATIONAL JOURNAL OF THE COMMONS 10:(2) pp. 1082-1099. (társzszerző: Mike Károly)
The Role of Small Towns in Local Place Making In: EUROPEAN COUNTRYSIDE 8:(4) pp. 427-443. (társzszerző: Csurgó Bernadett)
A Zalaszentgróti kistérség agrárszereplői: Nyertesek és vesztesek In: In: Kovács K (szerk.) Földből élők: Polarizáció a magyar vidéken. 532 p. Budapest: Argumentum Kiadó, 2016. pp. 268-291.
Institutions and networks in rural development: two case studies from Hungary In: Stefan Sjöblom, Kjell Andersson, Terry Marsden, Sarah Skerratt (szerk.) Sustainability and Short-term Policies: Improving Governance in Spatial Policy Interventions Surrey: Ashgate, 2012. pp. 217-244. (Ashgate Studies in Environmental Policy and Practice) (ISBN:978-1-4094-4677-4)
Climate Change? No, Wise Resource Use is the Issue: Social Representations of Energy, Climate Change and the Future. In: Environmental Policy and Governance, 2012, doi:10.1002/eet.1585 (társszerzők: Anke Fischer, Vera Peters, Jan Vávra, Mirjam Neebe, Antoinette Kriel, Miloslav Lapka)
Energy use, climate change and folk psychology: Does sustainability have a chance? Results from a qualitative study in five European countries. In: Global Environmental Change (2011), Volume: 21, Issue: 3, Pages: 1025-1034 (társszerzők: Anke Fischer, Vera Peters, Jan Vávra , Mirjam Neebe)
Research Projects
The effect of agricultural and rural development policy on local small-scale agrifood production (OTKA PD)
Living from the Land – Research financed by the Hungarian Science Foundation (OTKA) Principal investigator: Kovács Katalin (MTA KRTK), Kovách Imre (MTA TK).
GILDED – Governance, Infrastructure, Lifestyle Dynamics and Energy Demand: European Post-Carbon Communities. Coordinator: Macaulay Institute dr. Nick Gotts. www.gildedeu.org;
RURBAN – Building New Relationships in Rural Areas under Urban Pressure. Wageningen University Greet Overbeek. www.rural-urban.org
CORASON – A Cognitive Approach to Rural Sustainable Development – it is an EU FP6 research project. Trinity College Dublin, dr. Hilary Tovey. www.corason.hu
COFAMI – Collective Farmers Marketing Initiatives – it is also an EU FP6 research project. Wageningen University; dr. Henk Renting. www.cofami.org