Noémi Katona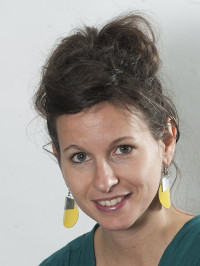 Download CV
Junior Research Fellow (TK SZI)
Department: Research Department for Social and Public Policy
Academic Title: PhD
Email: katona.noemi@tk.hu
Phone: 06 1 2246700 / 5432
Building: B (Floor, room: 1.12.)
Research Interests
Migration, gender, ethnicity, prostitution, human trafficking, the sociology of emotions
Selected Publications
Pimps or boyfriends? The negotiation of intimacy and economic transfer by Hungarian sex workers in the Kurfürstenstraße. In: Sex Work(s). Ed: Marta Dubel und Susanne Kimm. HammockTreeRecords Kollektiv, Wien: 2015.
Child Trafficking in Hungary: Sexual Exploitation, Forced Begging and Pickpocketing / Gyermekkereskedelem Magyarországon: Szexuális kizsákmányolás, koldultatás és zsebtolvajlásra kényszerítés. Vidra, Zsuzsanna; Baracsi, Kitti; Katona, Noemi and Sebhelyi, Viktoria. In: CPS Books. Budapest: Central European University, 2015.
Sex work and prostitution in the neoliberal global economy: Potentials of Feminist Critique in East-Central Europe. In: Neoliberalism and Feminism in East-Central Europe. Publisher: Friedrich Ebert Stiftung, Budapest. 2016.
Loved or seduced? Intimate Relationships between Hungarian Sex Workers and Pimps in Berlin's Kurfürstenstraße. In: Third party sex work and pimps in the age of anti-trafficking. Ed: Amber Horning and Anthony Marcus. Publisher: Springer. 2017.
State policies and institutional procedures and practices addressing prostitution and sex trafficking of children in Hungary. (Zs. Vidra, V. Sebhelyi and N. Katona). Forthcoming, Critical Social Policy. SAGE Journals.
Research Projects
2016 – 2017
Research on the investigation of transnational organized crime. National University of Public Service, Budapest.
Research assistant
2015 Spring
CONFRONT research project, Countering new forms of Roma children trafficking: Participatory approach. Central European University, Center for Policy Studies.
Research assistant
2011 Spring- Summer
Project BORDERNETwork 2010-2012. SPI, Berlin.
Conducting interviews